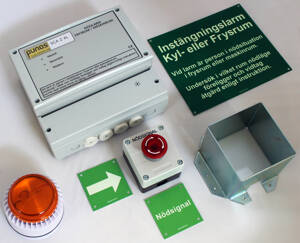 SCA2AL man in cold room package
SCA-paket-package
SCA 2 AL is a cold room trapped person alarm. The alarm should be used where a person can become trapped in a locked room or in premises where there is an increased risk of injury. Such spaces can be walk-in freezing rooms, cold rooms, engine rooms or elevator rooms.

SCA 2 AL may be used to comply with applicable sections of the requirements of EN378-1.

The Cold room trapped person alarm SCA 2 AL has dual batteries and two relays. The two relays can be used to pass on an alarm to a monitoring station or shut down cooling fans. The second relay is advantageously used to power the flash light SCK1 OR with built-in siren.

Cold room trapped person alarm with input for one or two illuminated emergency buttons. Battery backup for 24 hour monitoring or 7h alarm. Signals with a red LED and a sharp beep when the alarm button is pressed. Two potential-free relay outputs for retransmission of alarm and / or control of one or two other devices.

Alarm: Height: 185mm Width: 213 mm Depth: 102 mm. The alarm center can be mounted either with the cables downwards or upwards.

The kit (package) content:

(1 pc SCA2AL/2.0 Man in cold room alarm (Swedish Coldstore Alarm))

(1 pc SCB3DL/1.0 Push button)

(1 pc SCG1EE/1.0 Protective Cage)

(1 pc SCK1OR/1.0 Sounder with Xenon Beacon Amber) (Orange linsfärg)

(1 pc SCS4EZ/A, (Emergency Sign, Instängningslarm 210 x 180 mm)

(1 pc SCS2EZ/A, (Emergency Sign, Nödsignal 70 x 70 mm)

(1 pc SCS1EZ/A, (Emergency Sign, Nödpil 70 x 70 mm)

A manual is included with the man in cold room alarm.

Please note that the kit does not contain any mounting screws or cables for installation.